False Ceilings And Its Types
Home Interiors are incomplete sans a good ceiling. The false ceiling designs come up with different patterns, types, technology, and diverse finishings.
So, before getting into details, let's first know - what is a false ceiling? And why is it required?
What is a false ceiling?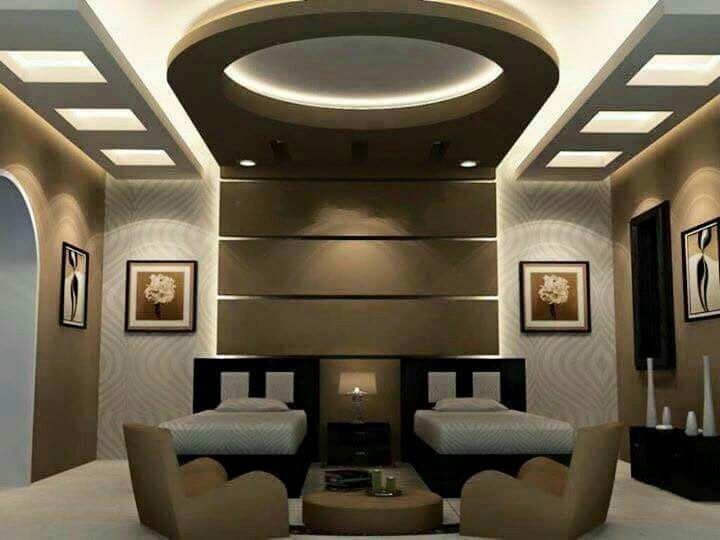 False ceiling is the ceiling that hangs just below the original base ceiling of a property. It is also known as a drop ceiling or suspended ceiling. It's used in various types of settings as utility installation.
These are designed to add beauty and elegance to the architecture. These are commonly constructed at a minimum distance of 8 to 8.5 inches from the original ceiling. They can be erected with different designs, patterns, and shapes irrespective of the size or dimensions of the property.
The ceiling design can also be customized as per the needs and preferences. And there are innumerable office false ceiling designs that you can choose from for your specific corporate.
Why do you require a false ceiling?
False ceilings are meant to provide good aesthetics, which means it provides pleasure to the senses due to its incredible designs and unique formations.
Apart from the aesthetics, it also provides some functional features like
Sound Absorption: A false ceiling is known to provide good acoustic performance where the required sounds can be ameliorated and at the same time some undesired sounds can be reduced.
Space provision: It also provides space for pipes, ducts, and electric wires.
Reduced Energy consumption: It helps to reflect and diffuse the light to a larger area. Thus, reducing the need for unnecessary artificial lighting and therefore helping in lowering energy consumption.
Besides, these ceilings are also good at moisture-resistance and ensure adequate fire safety.
Types of false ceilings based on the material used!
False ceilings can be categorized into different types based on their uses or applications. These are classified based on distinct types of false ceiling materials.
Some leading types of false ceilings include:
1. Glass false ceilings.
2. Fiber false ceilings.
3. Wood false ceilings.
4. Plaster of Paris false ceilings.
5. Gypsum false ceilings.

1. Plaster of Paris False Ceilings
POP stands for Plaster of Paris. It's primarily gypsum without any water content. It is very commonly used in a variety of commercial and residential roofing. It is a good insulator of cold and heat. It becomes very hard when water is added to it and is therefore used as good ceiling material. It is very durable and also maintenance-free.
2. Gypsum False Ceilings
Gypsum is a popular material used for false ceilings. It is lightweight, fire-resistant, and has good thermal and sound insulation properties. It is available in different hues like brown, white, red, yellow, and grey. It is also available as a colorless or clear material. They can be painted and laminated to give them a more pleasing look and appearance. Besides, it comes with different shapes and textures like curved, plain, coffered, and more. The gypsum board false ceiling price is quite moderate, you can use this type of false ceiling for your home or office.
3. Wood Ceilings: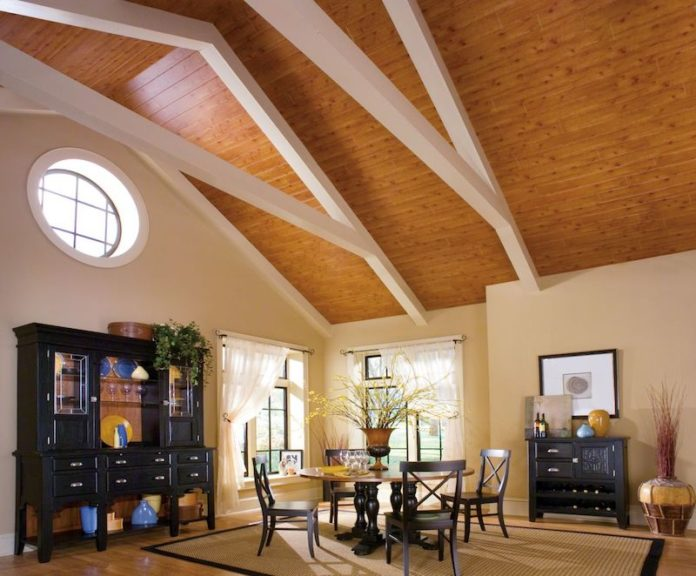 The wooden false ceilings have one of the most alluring and sophisticated looks and designs as these have innate natural beauty and textures. Wooden panels are available in different forms like wooden boards, hollow blocks, or panels.
They are easy to install and soothing to the eyes. They are durable but may be susceptible to termite infestations and warping. They can also be painted in different colors and textures. As wood is costly, wooden false ceilings can be quite an expensive choice. Nevertheless, if budget is not your problem you can easily go for it.
4. Fiber ceilings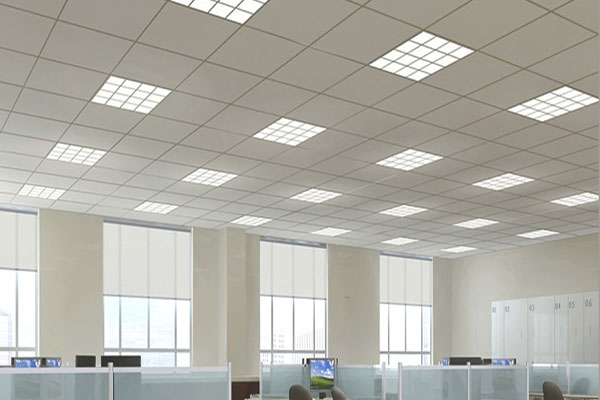 Fiber false ceilings are widely used for their soundproofing or acoustic performance, these have good sound and heat insulation features, which is why they are highly preferred in commercial places. These ceilings involve the use of mineral fiber ceiling tiles. These ceilings involve a medley of natural and synthetic materials such as tars, wood, stone, vegetable fiber, etc.
The fiber false ceilings are therefore very tough, durable, and resistant to fire as well. These are widely used in showrooms, shopping malls, corporates, and offices.
They are gaining popularity in commercial applications as they are quite inexpensive, easy to install, and proffers many functional benefits. These are not used for residential properties as these lack aesthetic appeal and are not so fancy.
5. Glass Ceilings:
Glass ceilings give the most aesthetic looks and therefore these are widely used in libraries, jewellery stores, restaurants, etc. These look gorgeous and provides a sense of closeness to the outside environment, relaxes the mind, and is soothing to the eyes.
These can be painted, laminated, or patterned using different hues and designs. Not only this, but it also acts as a good heat insulator.
Conclusion:
Thus, there are different types of false ceilings, that come up with different unique patterns and types.
These not only enhance the beauty of the home or office but also adds an aesthetic element to the property.
We hope that the information shared above has provided a much clear understanding to you about what false ceilings are, their types, and how do they vary from each other.
Contact us and get more details about false ceilings - why are they widely used in commercial spaces, the benefits of false ceilings, and more queries related to different products like partitions, insulations, and more! Call us at 9625332290 or visit us at https://www.unidusindia.com/ to know more!